Product Updates
We are happy to announce some new enhancements & fixes:
(Last Release Nov 26, 2022)
Note: if you don't see the same thing in your account, try clearing your cache/cookies or use a "new private window" to refresh the cache.
New Features
Goals:  Added new feature "Admin Lock".  To restrict the editing of Goals.  Only Admin user can lock/unlock
Goals


Select the goal

Select the Team tab
Lock/unlock for editing

Ability to view Ideas by Month
Idea Funnel


Select "Rejected Ideas" or "Total Ideas"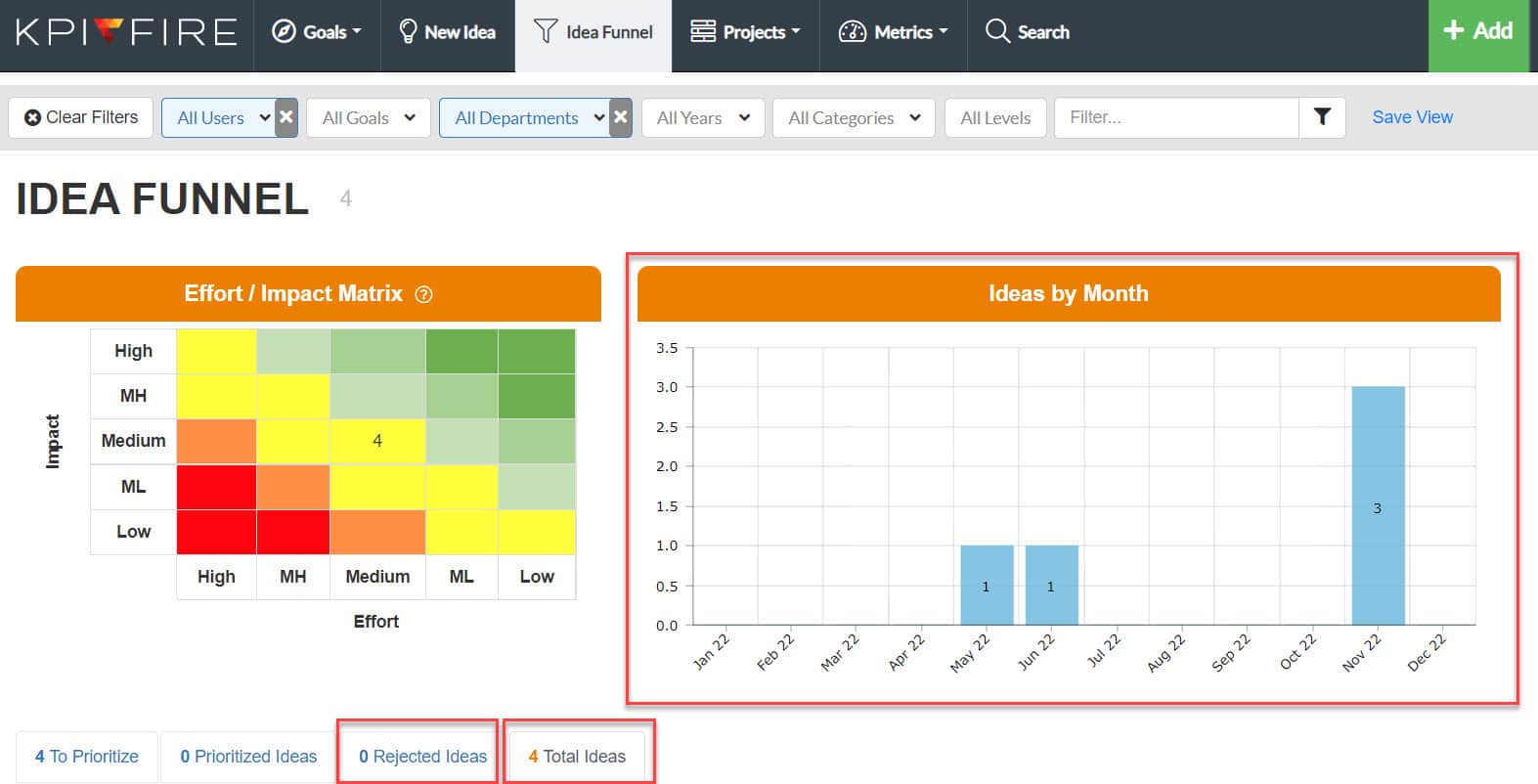 Improved Features
Improvement to Project Benefit Budget report for showing forecast
Project Budget Report: improved performance when multiple benefit accounts are selected
Improve download performance
No-access user can now have email address attribute
Updated Spanish translation
Project List view: add Project Benefit Forecast value as column option in Edit columns to show
Project Charter: if name is removed, the original tile name will be restored
Project Log file: Add approval history to project log file
Project Export: Add separate column for text.notes vs html notes
Project Benefit Budget Report: Actual values will show red/green vs budget
Project Benefit Budget Report: hide target line on chart by default
Updates/Bug Fixes
Huddleboards: Added new API for updating a Text Tile..
Fix issue affecting clone project feature
Fix issue on project benefit csv export
User Invites: Inviting user can now add message to invited users for imported users
Project Tasks: Fixed issue on Drag/Drop task to sub-task
Fixed issue affecting some user notifications
Fix bug with skip weekend feature in timeline view
Improve performance of Full Export
Metric: Data Input Method: Sum Project Benefit now supports all modes
Fix issue: Changing name on Huddleboard not showing in waffle menu until page is reloaded.
Fix issue: xMatrix relationships showing strong vs weak
New option to show by "any due date" on Huddleboards Project Task widget
Error message if not data is found on the Huddleboard Project Benefit Account
Metric Bowling View:  Small improvements to alignment
Fixed issue affecting count of boards for admin users for Huddleboards
Added print option for Balanced Scorecard
Updated Spanish translation values
Metric Bowling view: add category color in small square.
Project Benefit Account tiles on Huddleboard: fix issue with red/green colors when only the Actual budget option is selected.
Project Benefit Report: Add sidebar back in.
Metric Data Tab: added size control to increase height/width of pop up box.