Product Enhancements – Release Notes October 2023
We are happy to announce some new enhancements & fixes:
(Last Release – October 28, 2023)
Note: if you don't see the same thing in your account, try clearing your cache/cookies or use a "new private window" to refresh the cache.
Saved Views & Huddleboards
Enhancement: Saved View edit model now includes a Teams tab for saved reports, allowing multiple users to access the same saved view.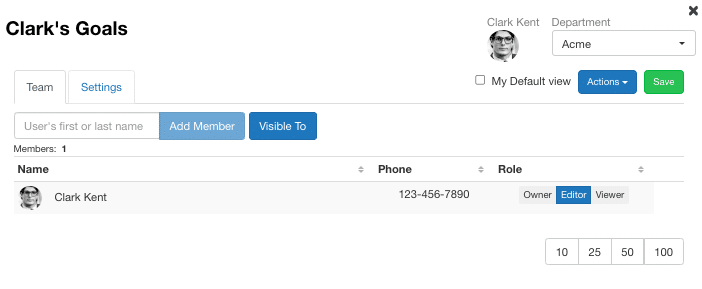 Metrics
Control Chart
Missing actual data for Input frequencies  is now automatically hidden on Control chartfor clearer visualization.

Data Tab
NEW feature: Added functionality on "Configure Metric" to expand data table.

Huddleboards
Custom Huddleboard
NEW feature: Users can add Project List Tiles and Goal Tiles with summary components and goal summary switch icon to their custom Home Page.
Custom X Matrix – Portfolio Timeline View
Added  sorting options for enhanced functionality on the Portfolio Timeline.

Portfolio Timeline View
Added Edit Columns functionality to Custom X-Matrix huddleboard Portfolio Timeline View for improved customization and flexibility.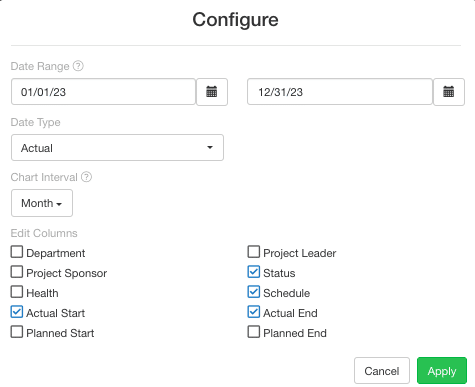 Portfolio Timeline View
Added a vertical line to X-Matrix Timeline View indicating the current date for improved timeline orientation.

UI Enhancement: Added health icons to the timeline view hoverover information enhance clarity of color representation.

Advanced Search
Enhancement: Advanced Search now supports filtering and searching for tags, enabling users to find all tasks with a specific tag.

Enhancement: Users can add task groups within ideas without converting to active projects.
Project List
UI Enhancement: Project List "Top Few" column now includes ' Yes', and 'No' filter options for enhanced data filtering.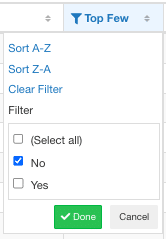 Project Benefits Tab
Project Benefits Accounts now supports assigning Project Benefits to different departments, enable Benefit Departments from Advanced Settings page.


Enhancement: Added year to chart axis alongside month.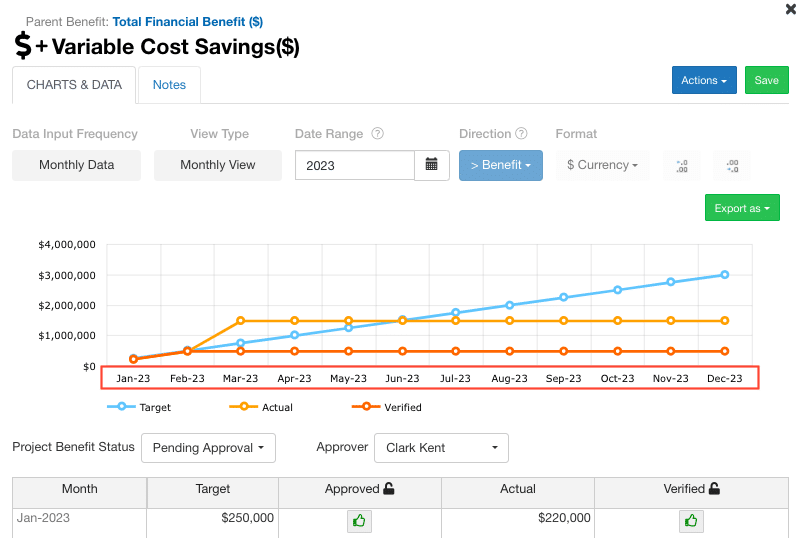 Tasks Tab
Enhancements: Users can now open " Manage All Tags " in a new tab, enabling simultaneous access to project and settings.
Tasks Tab
NEW feature: Introducing a new 'Tag Filter' feature to easily view and manage project tasks based on specific tags.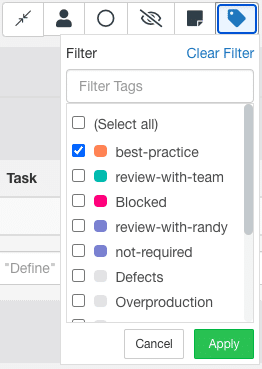 General Updates/ Bug Fixes
Corrected the Project List Export functionality to ensure that selected columns now consistently match on the export screen.
Currency-type metrics with '$' currency now correctly close in 'sum of project benefit' mode.
Log file entries will display copied and pasted values in the PB Bowling View.
Other metrics now updates correctly when importing after making changes.
Resolved data-saving issues for "Note" and "Task" columns with metrics summing sub-metrics and ensured proper BSC Score population in parent metric.
Resolved issue where username and password screens were uneditable after logging out without requiring a page reload.
Group headers no longer lose their sticky behavior on smaller screens.
Enhanced column resizing for a more efficient use of space on Goal List.
Project Summary Report Department & Workflow chart filter working correctly affecting other charts on the page.