Product Updates
We are happy to announce some new enhancements & fixes:
(Last Release July 29, 2022)
Note: if you don't see the same thing in your account, try clearing your cache/cookies or use a "new private window" to refresh the cache.
New Features
Project Benefit Account tile, added option to show Target + Actual and/or Budget Values in Bowling View

Go to Metrics:  Huddleboard

Select or create Huddleboard

Add:  New Tile as Metric
Select Bowling Chart
Can now see the number of linked projects selected or created

Project Benefit Account tile, added option to show Target + Actual and/or Budget Values in Bowling View

Go to Metrics:  Huddleboard

Add Benefit Tile or Open Filter in existing benefit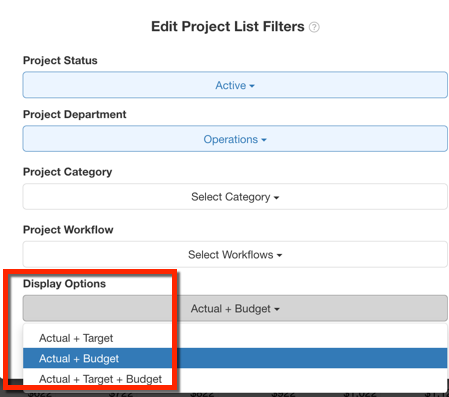 Idea Funnel
Added new tabs for "To Prioritize", "Prioritized Ideas", "Rejected Ideas", "Total Ideas"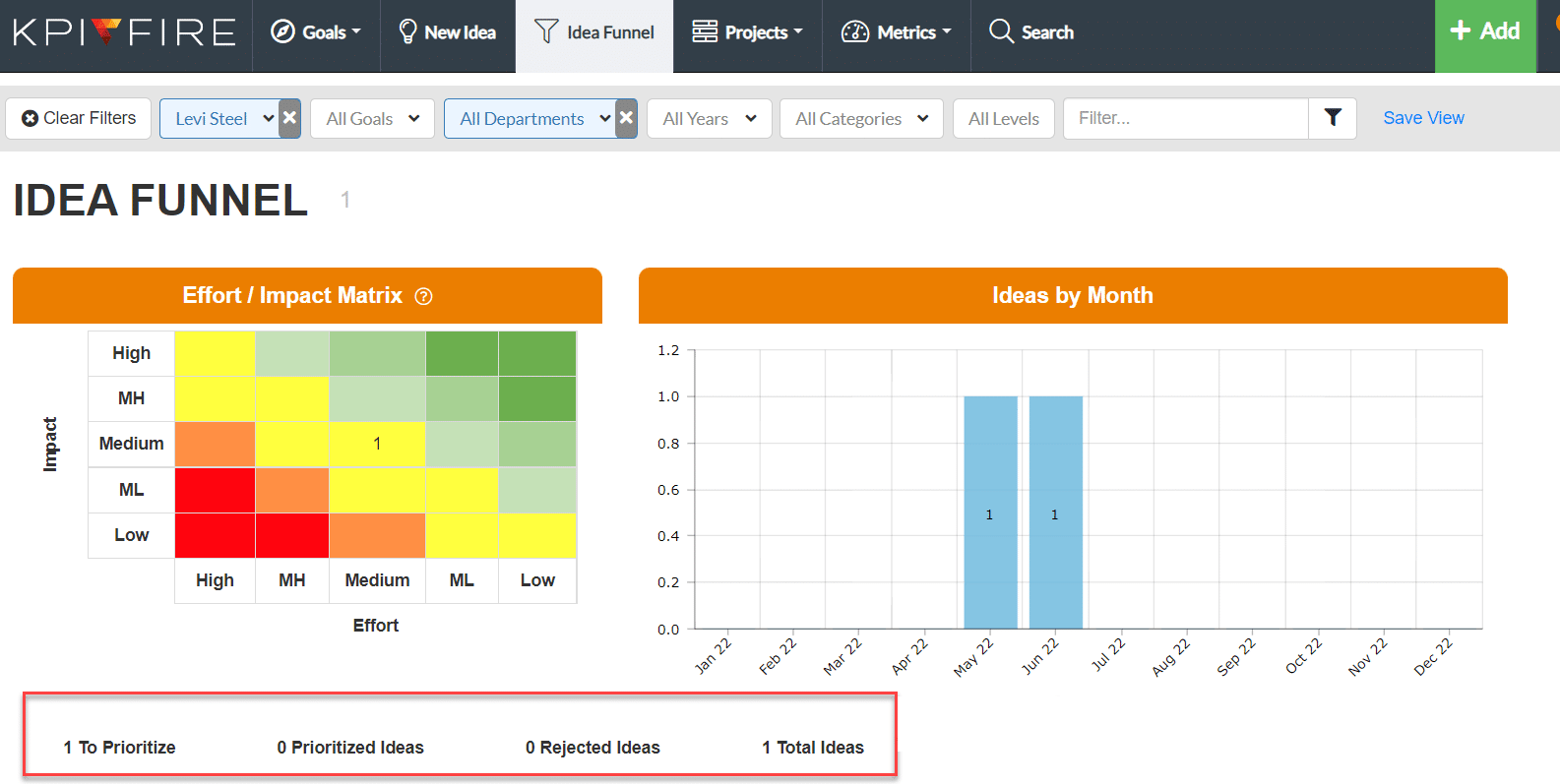 Project Task Group
Implement "sticky headers"

Task group header row now sticks to the top of the page while scrolling
Daily Update
Added "My Projects" panel to Daily Updates page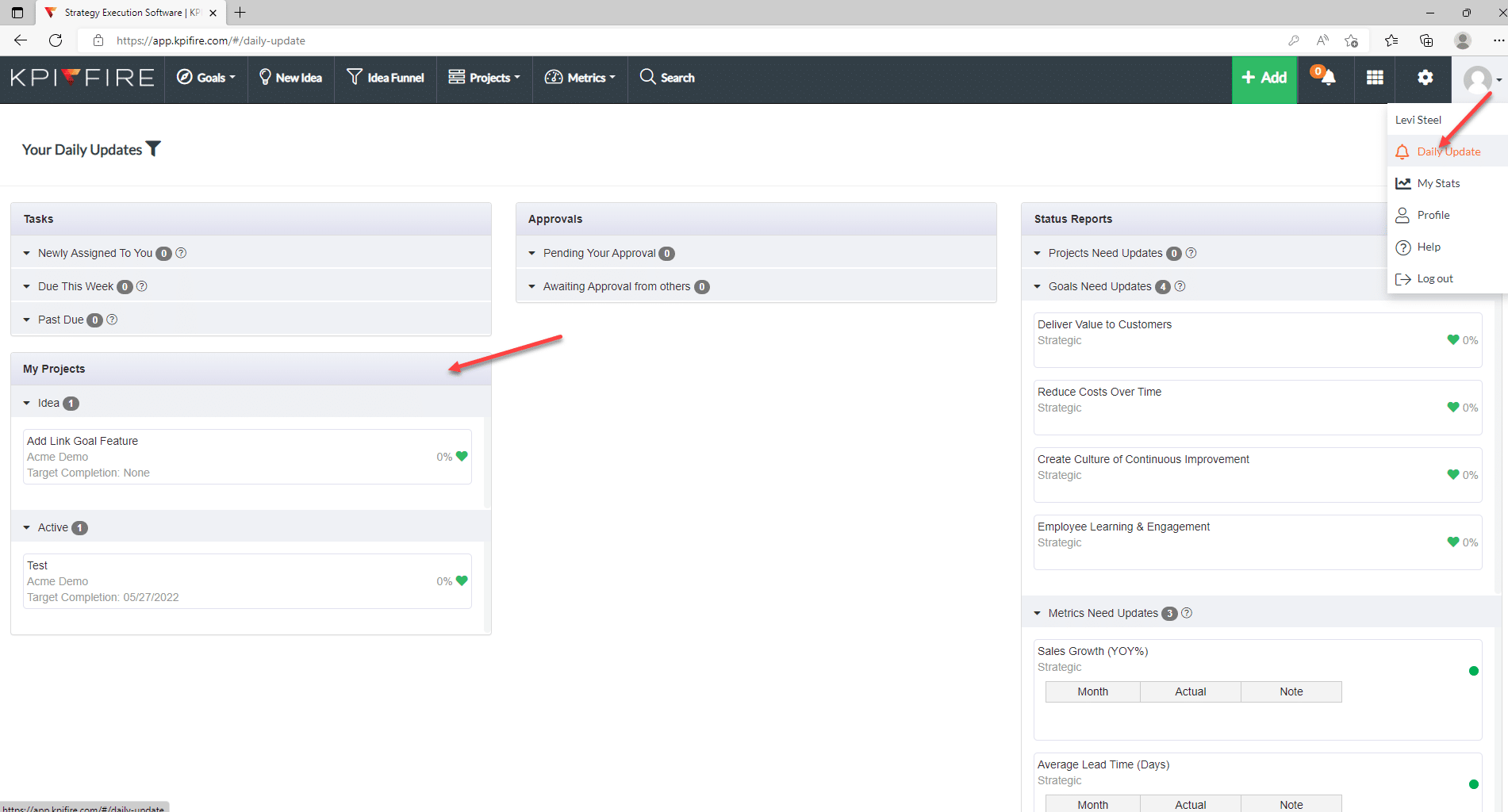 Projects:  Clone a Project
A team member with edit access can clone a project

Open a project
Click Actions
Click Clone As Project

Projects:  Reports
Now easier to locate missing project benefits.

Go to Project Budget Report

Drill down on the benefit
Cell will be highlighted if target >$0 and actual has no value

Updates/Bug Fixes
Release Date 7/29/2022

Removed limit of tasks that are visible
Fixed Huddleboard Chart Tile where most recent was showing daily sum instead of most recent

Release Date 7/25/2022

Fixed UI issues:

For small screens/tablets/mobile devices where some project fields were being hidden
Overlap issue when filtering by project team member

Adjusted alignment issue when metric headers were modified with large text
Fixed issue where some project records may not show up in list views

Release Date 7/21/2022

Changed icon for "is Primary" for better visibility for visually impaired users
Added ability to edit uploaded file name under Task Attachments
Formatted Metric Bowling View to accept input of 23% as 23%, input of 23 will be 2300%
Adjusted alignment for Metrics with longer custom column names
Fixed issue with linked items not showing in Goal Detail linked items tab
Fixed issue with user filter not refreshing on Project Summary Report
Fixed issue with Saved Views

Release Date 7/15/2022

Added deeplinking for Project Budget & Project Benefit report.
Improved layout on mobile devices
Fixed issue with recalculate Project Benefits

Release Date 7/5/2022

Fixed decimal display in Bowling View and currency formatting on Huddleboard
Strategy users can now add themselves to the team or project that is within their department
When exporting files with special characters the special character now shows
File added on notes tab now showing on  the files tab of project benefits files section
Fixed issue with newly added task tile disappearing
Fixed issue where blue paperclip may not show when using link vs. attachment
Minor security update to make encrypted passwords more secure
Fixed issue with Huddleboards where project task group status selections were not saving
Fix occasional issue where new project benefit button not working
Metric next due date. When a new actual value is entered, the next due date for metric will advance based on selected input frequency.
On Project Charter: Do not show ROI calculation unless at least one Project Benefit account type "Cost" exists.
Some Improvements for project task layout on smaller screen devices
Project Benefit Budget report: enable saving of secondary filter criteria with saved views
Show the Notes box when changing Project Status to Cancelled
Small text formatting issue on Huddleboard
Project Benefit Budget report, Drill down on Project Benefit Account. Change to Project Benefit Year totals: Change to display of year to show sum of total for year displayed. Will show year sum even if a user selects a time period with less than the full year selected. This will make it easier for users to know if they are viewing the project total vs. each year contribution.