Strategy Execution Software
KPI Fire Strategy Execution Software will equip you with the visual tools, metrics, and systems to allocate resources, measure performance, manage risk, and execute strategy. After all, strategy isn't a thing that you do in addition to running your business—it's your business. With KPI Fire Strategy Execution Software, it's never been easier to align strategy, drive execution, and engage your people.
Strategy Execution Software: A Visual System for Strategy Management
Save Time & Simplify Strategic Business Reviews:  Stop wasting weeks preparing for strategic business reviews that don't justify the time they take to prepare.
Recognize Success & Evaluate KPIs Objectively:  Visually evaluate strategy success with objective color coded metrics.
Avoid Failure & Initiate Corrective Actions Early:  Use standardized templates for corrective actions and business cases.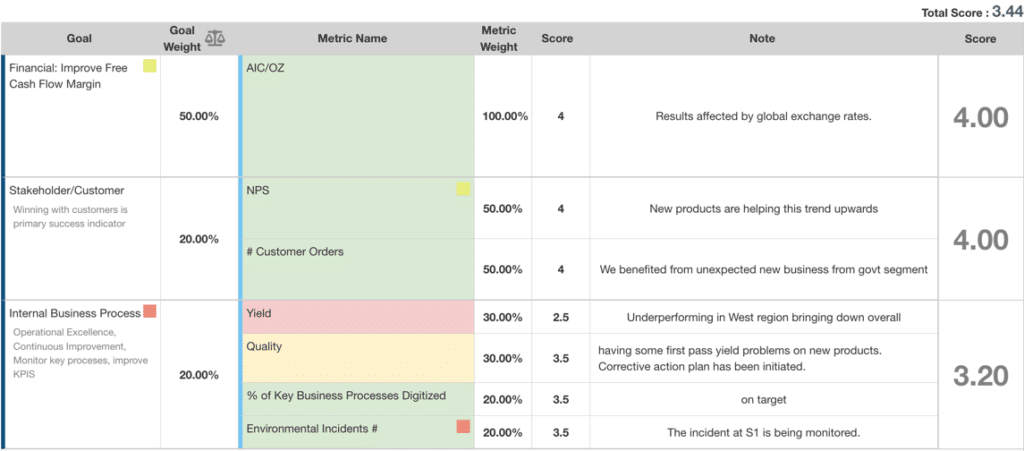 Effectively Communicate Your Strategic Initiatives
Does your organization have multiple versions of "the strategic plan"?  Most organizations spend excessive time planning, but fail to communicate the plans in a way that allows the organization to stay focused and execute. KPI Fire Strategy Execution Software serves as your organization's single source of truth for the strategic plan.
Strategy Execution Software Will Keep Your Strategy Alive and Well
Once the strategic plan is complete and communicated, it's critical to measure progress against the objectives, revisit and monitor the plan to ensure it remains valid and adapt the strategy as business conditions change. If you need to dig through your old emails to find your strategic plan, you need KPI Fire.
Align Strategic Initiatives to Project Portfolios
Whether you call it Hoshin Kanri, Cascading Goals, or OKRs, it is important to get the strategic priorities passed down to the people and functions who can make it happen.
Simplify Business Reviews
Typical monthly or quarterly business reviews can take more time than most businesses are proud of. With KPI Fire you can simplify & standardize the format for your Business Reviews and reduces wasted effort on powerpoint slides that don't add real value. You can get more frequent reviews and get them done in less time and with less effort than before.
Customer Quote:
"Before KPI Fire we did Quarterly Business Reviews & they were painful. Business leaders spent too much time preparing information and senior executives weren't getting they type of updates that were really useful.  Since implementing KPI Fire we now do Monthly Business Reviews but we spend less time overall.  We benefit from getting more frequent updates AND saving time overall, and our execution has improved."*

Gartner® states:
"By 2024, 80% of digital businesses will integrate SPM and execution technologies, and adopt new frameworks and standards, to achieve valued business outcomes."*
Communicate Strategic Initiatives
Functional leaders need clear business objectives from senior leaders to feel confident making plans and decisions. Everyone is better off when you have clear metrics with targets that define how you will keep score by using strategy execution software.  Progress toward key initiatives and transformational innovation and ideas for continuous improvement can come from all levels when the team knows what the big picture objectives are.
Remove Ambiguity
Do you have a strategy?  Do your employees know what it is?  Many employees report "unclear goals" as the #1 source of stress in their lives.  Don't let this happen to you. If your strategic plan is still living on a document on your own personal computer, or if it is lost in an email from 6 months ago, you are part of the problem. We have the solution.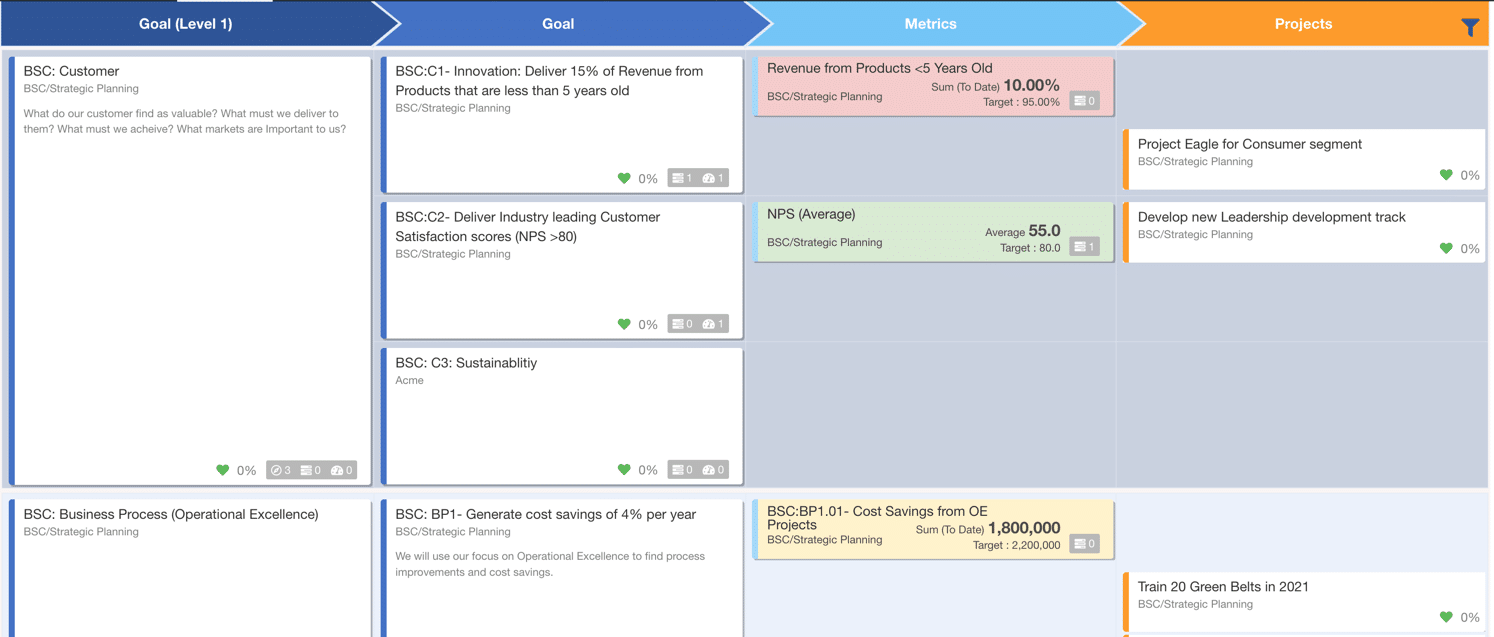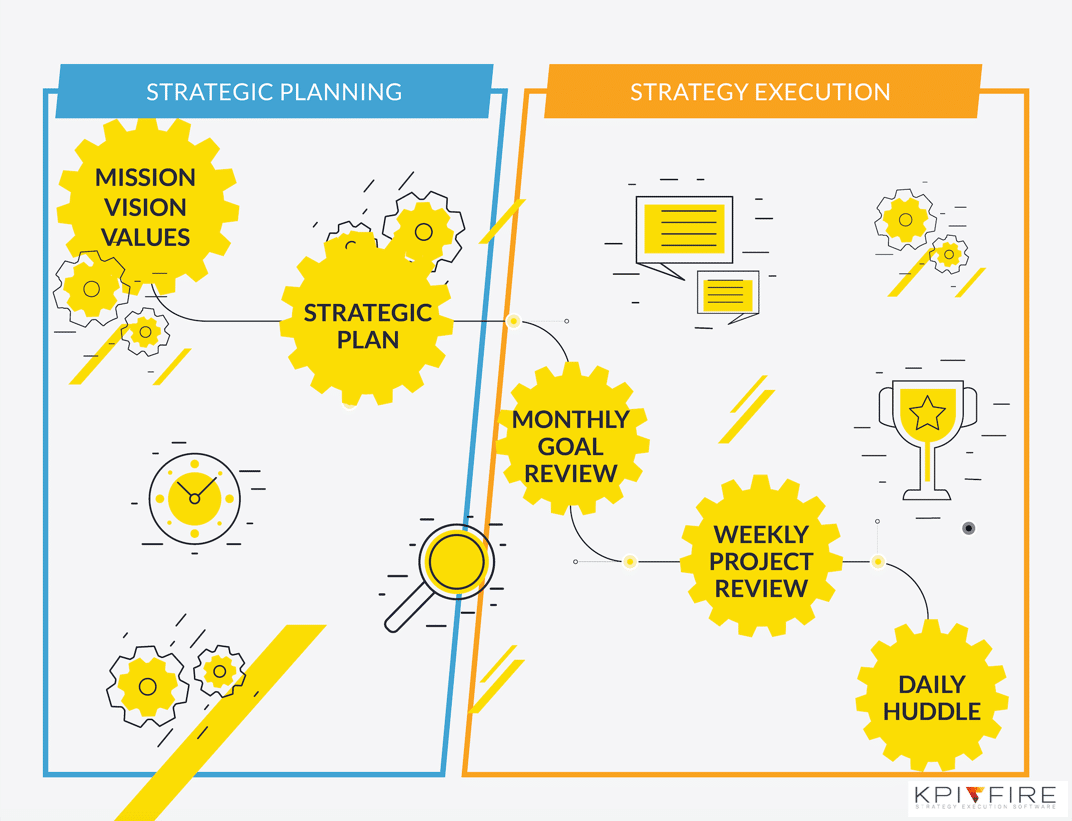 Develop Execution Skills
Strategy Execution is not just a task for senior leaders and the strategy department. Effective strategy execution relies on employees at all levels of the business to develop strategy execution skills. These critical thinking skills can be modeled your senior leadership or strategy team and can be reinforced with KPI Fire. KPI Fire Strategy Execution Software makes overall strategy and daily action simple for all levels of your organization.
Simple & Versatile
Regardless of the Business Improvement methodology your organization chooses (Lean, Six Sigma, Hoshin-Kanri, Cascading Goals, OKRs, Balanced Score Card) achieving  goals with KPI Fire Strategy Execution Software is compatible and follows a simple formula. What do we want to achieve?  How will we measure our Progress?  What is the work to be done? This formula is simple and repeatable and easy for your people to follow and learn.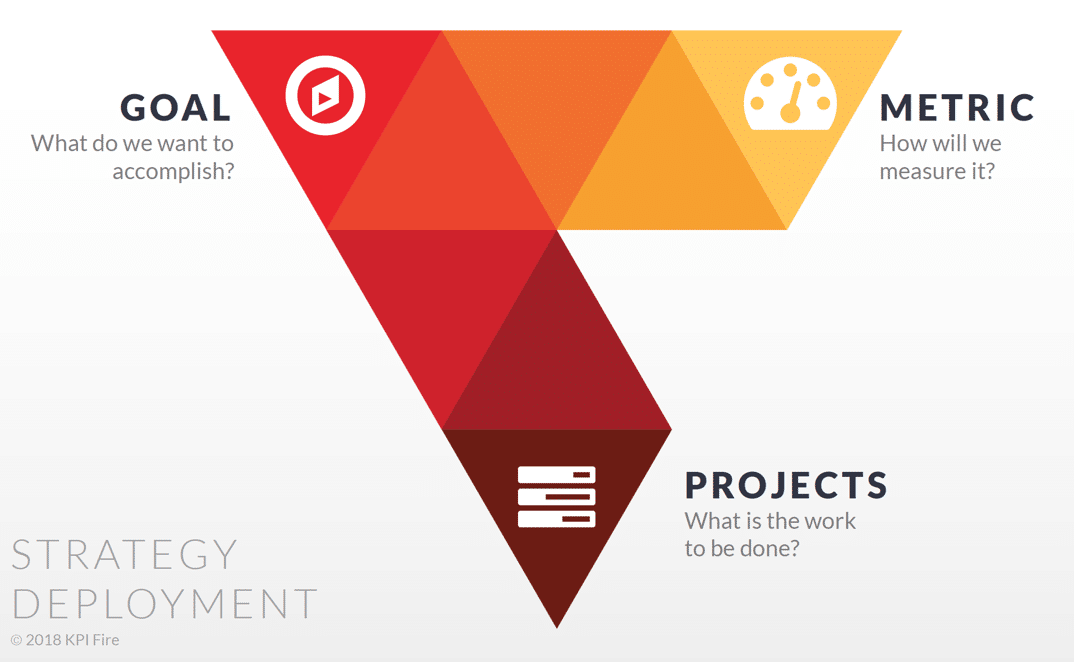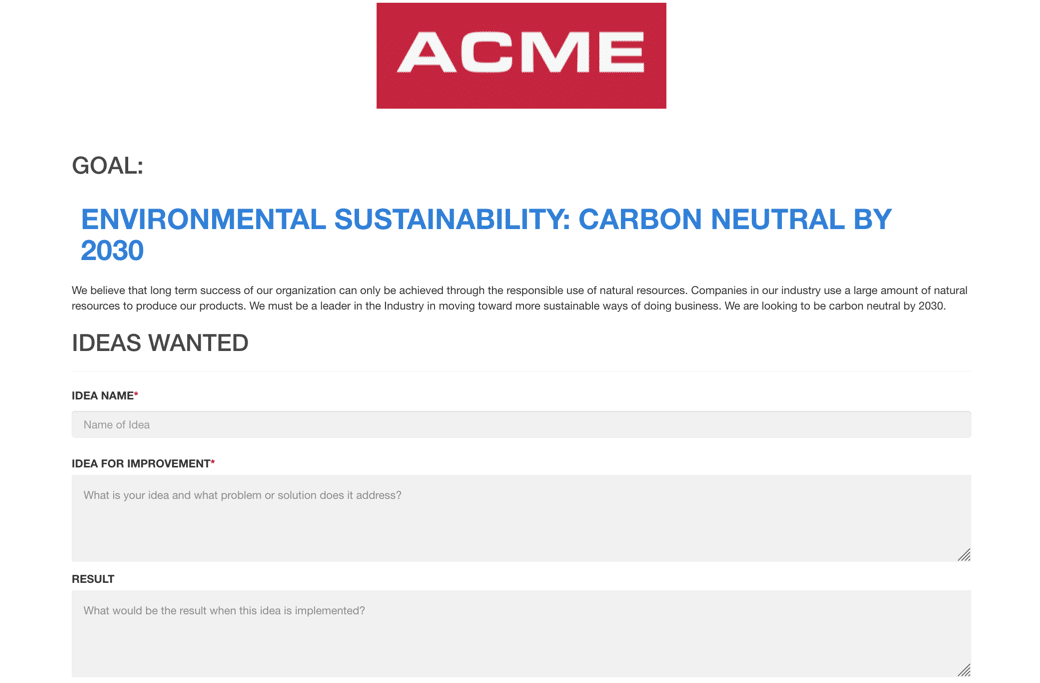 Move Transformation Forward
…AND Increase Employee Engagement
Some strategic goals are so big that traditional top down planning methods are insufficient to tackle the challenge. The best ideas for improvement often come from the people closest to the work.  The KPI Fire Idea Funnel feature allows employees to share ideas for improvement and provides a filtering and activation process for keeping your project management resources focused on the projects that are approved and likely to add the most value.
Standardize Business Case Templates
Projects are the building blocks of strategic outcomes. Use project charters for describing the problem to solve, the desired outcome, and the scope of the project.  Status report templates and reminders keep everyone up to date. KPI Fire Strategy Execution Software makes it easy to develop project charters to support your strategic initiatives. 
Clarify expected costs & outcomes to speed executive approval
Sets roles, responsibilities and accountabilities
Identify dependencies & relationships
Customizable Templates and layouts
Track Approvals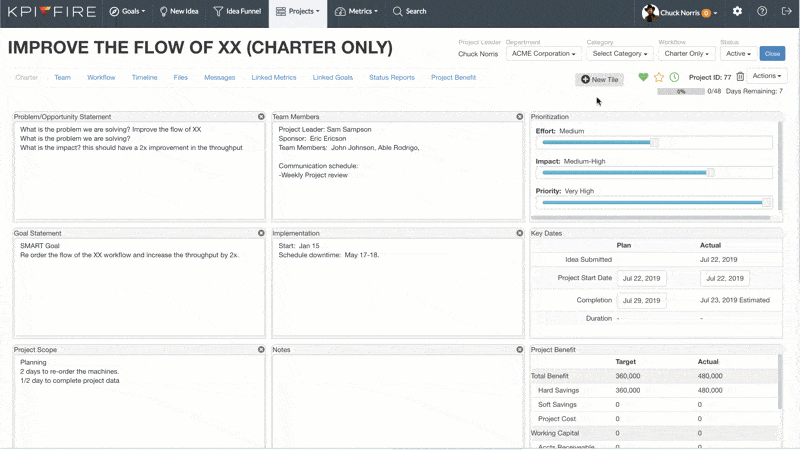 Enterprise-Wide Functionality With Strategy Execution Software
KPI Fire is built for enterprise.  KPI Fire Strategy Execution Software can be implemented quickly and can support numerous configurations. Our APIs allow for easy integration with 3rd party software such as Jira, ServiceNow, PowerBI, Tableau, and many more. 
Secure
Role based access control
Single Sign On (available)
APIs

* "2022 Strategic Roadmap for the EPMO", Daniel Stang, Sarah Davies, et al.,  March 24, 2022.
GARTNER is a registered trademark and service mark of Gartner, Inc. and/or its affiliates in the U.S. and internationally and is used herein with permission. All rights reserved.
Additional Resources for Strategy Execution Software: