What is the X-Type Matrix?
The X-Type Matrix or X-Matrix is a format used for communicating an annual business plan. It is generally used as an element of the Hoshin Kanri planning methodology. If printed its format is designed to fit on an A3 piece of paper (landscape). It shows correlation between desired results, strategies, projects and targets to improve.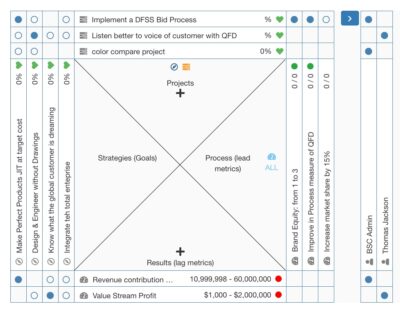 The X-Type Matrix is the premier format for defining, linking, and aligning a fixed set of strategic goals with their tactical projects and measures that align available resources in order for the company to achieve high-level improvement synergies and corresponding breakthroughs" – Gwen Galsworth.
X-Matrix: a tool for strategy
The X Matrix is a tool used to help companies execute their strategic plan. It links results, with strategies, tactics and targets to improve.
The X-Matrix: is a thinking tool for leaders
The X-Type Matrix..has visual structure, and therefore limits; it shows relationship; it forces sequencing that drives thinking and connectivity. The structure of this architecture is powerful. The structure is its command.  – Gwendolyn Galsworth : Visual Workplace Page 174
The XMatrix Purpose
To translate and align your company's vision, mission, and strategy into an actionable, cross-functional plan that you can afford: your annual plan on a single page.
Spreadsheets are where great strategies go to die…
While the strategic thinking and planning process that the X Matrix reinforces is fundamentally critical, if your X-matrix is getting stuck on an excel file on your local or shared drive you are missing out on a valuable part of its potential.  The xMatrix should be shared with your company and used to inform strategy and communicate important activities.
If you want to get started with an excel based X-Matrix we have a free download here:
Free-X-matrix-template-download
You can get started with Excel, but you may find it is difficult to include additional details like Project details, or metric data. KPI Fire makes this part simple. KPI Fire is a single central cloud based location for your strategy. It provides a visual way to accomplish the objectives of an X Matrix plus give your team more tools to execute your strategy.
Request a live demo to learn more.
Create your xMatrix with KPI Fire
Step by step instructions for creating an X-Type Matrix in KPI Fire 
KPI fire simplifies the relationships and lets you track objectives in real time and show the proof they are having an impact on your KPIs. KPI Fire makes strategy execution simple and gives your entire team the power to reach their goals.
KPI Fire applies the same principles of the X Matrix but in a more visual and collaborative tool. visualize the connections. With KPI Fire you can establish goals and projects throughout your company in minutes. What's even better is that everyone in the organization will understand the plan in seconds. Teams can share projects, update metrics, and show progress toward their goals. Everyone from the CEO on down can see real time updates from their PC or iPhone. Its simple. It's easy. It's KPI Fire… and it's a whole lot better than a spreadsheet.
Above is an example X Matrix. The X Matrix places long term goals on the first set of rows. These are linked to annual goals on the first set of columns. At this point goals can be linked to metrics or continue to drill down to lower level goals. Finally goals are linked to projects and tasks. This is the work that must be accomplished to reach the goals.
The X Matrix links goals, metrics, and projects using the intersection of rows and columns of the items that are connected. This can be confusing and complex as you add goals for various departments thus adding layers to the X Matrix . An X Matrix for a large organization can have dozens of tabs and take hours to keep updated.
KPI Fire takes the same principles of alignment in the X Matrix and simplifies the visual linkages. You can quickly see how each department or individual's goals are aligned to higher level company goals with the click of a button.
Visualize the Linkage Between Goals, Metrics and Projects
With KPI Fire you can clearly see the metric that will be improved by the project you are working on as well as which goals and initiatives your project supports. KPI Fire takes the complexity out of the X Matrix and helps your company stay aligned to your strategy.